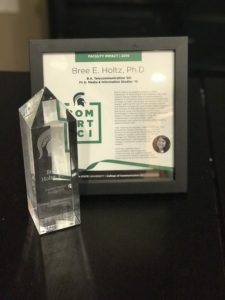 This past weekend (April 13, 2019) was the College's Awards weekend. As I have been named the 2019 ComArtSci Faculty Impact award winner, I was invited to all of the events.
First thing first, our alumni are amazing! It was a great opportunity to see what our students do once they leave and the impacts that they are making in the world.
Second, the focus or theme this year for the alumni board was on health. I was honored to be asked to do the keynote and present on my research (I talked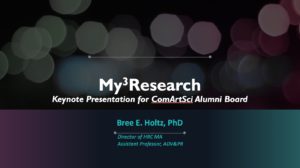 about MyT1DHero, MyT1DHope, and MySSP – and of course the Health & Risk Communication MA program). But during this, I also got to hear about the great research our faculty are doing. Even though we work together and chat, sometimes we don't get into what we are doing research-wise every day.
The most fun part of the weekend was actually receiving the award and thanking everyone who has helped me get to this place in my career. Thank you to everyone who made this possible!