ComArtSci Faculty Impact Award 2019
To receive this award, you have to be nominated by your students and winners are selected by the ComArtSci Alumni Board. This award is especially meaningful to me because of the student nomination process.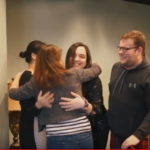 The college made a video about surprising me with the award.
Check out the blog post about the ComArtSci Celebration.
Adams Academy Fellow
I was selected as a 2018-19 Adams Academy Fellow.
Adams Academy Fellows explore the literature on effective university teaching and learning practices and consider how this robust body of research can be used to guide instructional decisions in the courses they teach. Participants learn from and contribute to a community of teacher-scholars committed to excellence in teaching and learning.